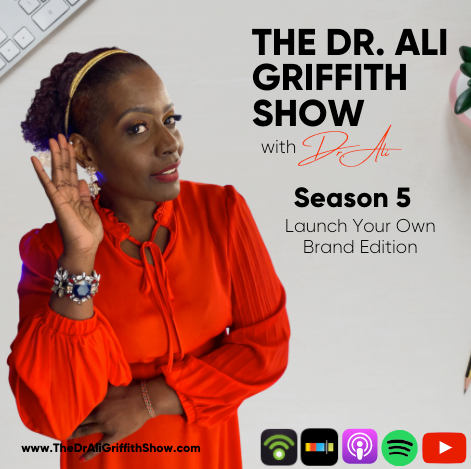 When women are in the beginning stages of building profitable businesses, it takes a special type of woman to coach them to success.
It takes a life and business coach who helps them to get clear on what they should be doing in the world. A strategist who sees systems in her sleep. And a keep-going kind of woman who can fight through life's unexpected and exceptional challenges—every day—and be an example for women to do the same.
It takes Dr. Ali Griffith.
Dr. Ali's desire to create the income and freedom that her life, as a single mom to an autistic son, required led her to entrepreneurship. Juggling a full-time career as an audiologist and speech pathologist, as challenging as her life was, she knew she had a choice—to crumble or climb. Always choosing the latter, Dr. Ali became a leading voice for parents of special needs children, quickly growing a small consulting company into a global platform. From launching a hit podcast, The Dr. Ali Griffith Show: Mindset, Meditation, Motivation, to consistently landing five-figure speaking deals, she is the rock star in every room she enters. As she leveled up in her own business, Dr. Ali has gone from student to sensei, training and leading the sales teams for personal development and media titans such as Lisa Nichols.
With an incomparable blend of business strategy, personal development tools, and God-given grit, Dr. Ali has dedicated her career to helping women to start profitable businesses and create wealth on their own time. Masterful at making what's complicated simple and what's unachievable possible, she shows women how to achieve laser clarity and implement systems that maximize their time and profitability. With Dr. Ali, women get rapid results in their businesses and lives.
They are richer. They are stronger. They are running businesses and living lives the only way they should be—on their own time and their own terms.
Learn more about Dr. Ali and opportunities to build an extraordinary business and life at www.draligriffith.com.
LET'S CONNECT FOR REAL FOR REAL!
Follow Dr. Ali Griffith on Instagram at https://www.instagram.com/draligriffith and https://www.instagram.com/mompreneursonfiretribe
Join my FREE Facebook Group The Mompreneurs TRIBE https://facebook.com/groups/themompreneurs
FAN of this PODCAST? If YASSS, leave your thoughts with your RATING and REVIEW and follow on your favorite podcast platform, so you will know when the next podcast is released! Your ratings and reviews matter A LOT and helps to spread the messages for more mompreneurs to get ignited in their purpose, passion and pockets!